DEMOS will be set up from 12:30 pm in the Starr Foundation Room.
They will continue till 6:30 pm.
ACROSS THE LINE
by Connie Colvin (Planned Parenthood)
Virtual Reality 
About : Across the Line is an immersive virtual reality experience that combines 360°video and computer generated imaging (CGI) to put viewers in the shoes of a patient entering a health center for a safe and legal abortion. Using real audio gathered at protests, scripted scenes, and documentary footage, the film is a powerful hybrid documentary-fiction depiction of the gauntlet that many abortion providers, health center staff, and patients must walk on a typical day in America. By confronting the stigma around that decision and documenting tactics of anti-abortion activists, this experience amplifies the conversation around safe and legal abortion.
THE GIANT
by Iris Qu (MFA D+T)
AR + VR Project
About : The Giant is a 2 player puzzle game for room scale VR (HTC vive). One player, the giant, can manipulate the landscape by scaling, dragging and rotating modules; to help the other player, the midget, to climb and jump through obstacles and reach the goal. Together, the players will explore through the forgotten space, fix the broken landscape and restore the energy flow in the world. 
My initial concept was to make a narrative VR experience. During my research, I found that room scale VR works best when users get to choose their own interactions, and interact with other characters in the experience. So I came up with the idea to put two players as different characters in the game, and each player needs to complete a set of task for the narrative to work.
AIR MATTER
by Sofia Aronov (MFA D+T)
Interactive Installation 
About : "Air Matter" is an interactive installation which, inspired by traditional pottery, creates a complete new approach to the generation of this craft.
The installation involves physical computing, open Frameworks and Processing to generate visuals in base of the data received by Leap Motion, which detects the hands movement. The vase generated is then transformed into a 3D object file and 3D printed.
My ultimate goal with "Air Matter" is to bring people closer to craft and the strong emotional response it generates. In a world in which speed and simplicity are the driven forces of our lives, my aim is to use technology to remind people the power of traditional techniques and artistic practices. I am fascinated by the possibility of using cutting edge technologies to strengthen the connection to our past and traditions but also to create a new kind and conception of craft itself which eveloves as the world does.
Also I want to communicate how technology can be a creative tool able to change the world of interactive art and installations, as it can be used to generate strong feeling and emotions able to enrich the user's person, against a common view of technology as a tool for the production of commercial services only. 
CEREBRAL EVIDENCE
by Qinqin Yang, Seung ho Jung, Kabeer, Chia Wei Liao, Yue Guan (MFA D+T)
Virtual Reality 
About : The inspiration behind the game is the conflict between your subconscious and conscious mind to influence your thought. The environment in the game is imagined by the mind as a spectral plane which is an abstract extension of all the things we see and experience on a day-to-day basis.
The core idea behind gaining control is to make you believe that you are surveilled everyday. The phone calls serve as a metaphor of practicing control from a distance & the camera around are a clue towards constant surveillance. The landscape is an extension of human ends desire to to exist in time which is eternal and unique.
MEMBIT
by Jay Van Buren (Alumni: MFA Painting)
Augmented Reality Project
About : Membit is a geolocative photo sharing app that allows pictures to be placed and viewed in the exact location they were captured. Membit's patented Human Positioning System (TM) allows for markerless Augmented Reality to be used anytime, anywhere, by anyone. "About as close as we got to seeing a time machine at TC Disrupt." Also amongst the 20 most fascinating iOS apps from TechCrunch Disrupt, MacWorld.
POWER UP
by Julie Huynh (Alumni: MFA D+T)
Digital/ Analog Game
About : Stress Ball Controller.
PERFECT EGGPLANTS DON'T EXI-
by Mikei Huang (MFA D+T)
Virtual Reality Installation
About : Perfect Eggplants Don't Exi- is a virtual reality experience about attaining the ideal body image, and failing to do so. In this superficial world of eggplants, players are encouraged to modify their bodies to meet society's arbitrary expectations. The game centers around the concept of the Gay Male Gaze, suggesting that the intersection of gender and sexual orientation reinforces gay men's tendency to objectify both themselves and each other by diverging and conflicting standards.
A JOURNEY TO HANGOVER LAND
by Geyao Zhang (Alumni: MFA D+T)
Virtual Reality 
About : A Journey to Hangover Land. It's a multiplayer asymmetric VR game blends non-VR mechanism and VR mechanism into one game in order to provide equally immersive gaming experiences for players with and without VR headsets at the same time. You can visit my website to find more information: http://www.zhanggeyao.com/a-journey-to-hangover-land.
PARKWALK
by Rosalin Paradis (Alumni: MFA D+T)
Virtual Reality 
About : Park Walk is a nostalgic virtual reality experience that encourages users to embrace a spirit of childhood rebelliousness and mischief.
From within a child's stroller, the user is tempted by colorful distractions and scolded by an exasperated adult as they create a mess and resist an impending nap time. Created for the HTC Vive.
DREAMLESS
by Madhav Tankha (Alumni: MFA D+T)
Immersive Installation
About : Heartbeats. Six sleepers — fragments of their absent originals, their thoughts clouded with dreams — call out from the void. Their life-rhythms slip in and out of harmony as they shift from one plane of dreaming to the next, alone in their sleep one moment, their thoughts entwined with another's the next, weaving their dreams in unison. And silent in their midst, the seventh sleeper. Dreamless is inspired by the beauty of sleep, of solitary and simultaneous dreaming, of the aspects of the self that are born and die in these worlds, and of things endless and sublime.
Dreamless consists of a set of six masks placed in a circular pattern, with the seventh mask in the middle. A dynamic projection is mapped on to the six masks (the seventh remains in darkness, only to be illuminated by the peripheral light of the six), wherein each mask glows and ebbs with light, suggestive of a heartbeat, in its own particular rhythm. The individual heartbeats of the masks come together in different combinations – twos, threes, complete harmony between all six – or slip completely out of synchrony.  The audio component of the piece is a dynamically-generated heartbeat that follows the collective rhythm of the masks, imbuing them with an unsettling sense of life, its potencies, its vulnerabilities.
COMPLESITTA
by Enrica Beccalo (Alumni: MFA D+T)
Immersive Theatre
About : Complessità (/komplessi'ta/ Italian, Complexity) is an innovative interactive dance performance that inverts the traditional human-machine interaction. In this performance Technology is the Operator and not the Executor. An algorithm that simulates a flock of birds manipulates the performer's movements through a wearable Galvanic Vestibular Stimulator device that modifies the performer's balance perception. The human loses ownership of its movements and we enter a new dimension where the machine computes the moving human body.

CYMULATOR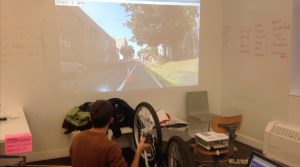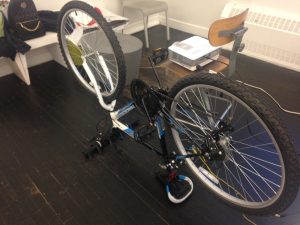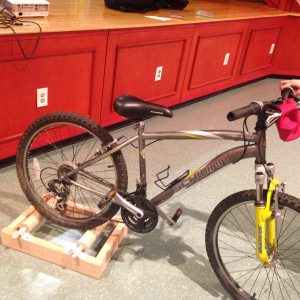 by Chu Chu Wang & Merrilee Pan (MFA D+T)
Immersive Installation
About : Users ride a stationary bike to simulate a casual bike ride around New York City
SEVEN FORMS
by Magnus Pind Bjerre (MFA D+T)
Immersive Theatre
About : "Seven Forms" is an experimental performance reenacting the donkey-scene from the 1940's Disney movie Pinocchio. The three performers have nothing memorized – they receive live commands through Virtual Reality headsets in the form of lines and poses.
Rather than taking interest in the virtual experience itself, this project focuses on the gestures and body positioning of the VR participant. It is about the physical transformation of human bodies. To emphasize the ideas of transformation and physicality, the performers recreate the donkey-scene from Pinocchio, where naughty boys are literally turned into donkeys. Through live updates of what is displayed in the VR-headsets, the performers are controlled in an almost puppet-like way.
The project was based on a series of workshops conducted by myself and the three performers. It is part of my research on interactive technologies and performance, which is my primary focus as a student at MFA DT. Developed over the course of two months, it was shown as a work-in-progress at 3LD Art & Technology Center in downtown Manhattan, New York City in May 2016.
CHINGU
by Seung whan Lee (MFA D+T)
Motion Graphics/ Film/ Video
About : I am studying how teenaged boys come of age if they tragically lose parents by telling stories that demonstrate the value of learning life lessons with friends because I want to find out how the game elements help the story to deliver sentiment to the children in an efficient way. In order to understand how important having good friends is to children who lost their parents and how they overcome the death emotionally.
FINAL THESIS : TBD
by Jane Mitchell (MFA D+T)
Physical Computation
About : G.O.B.I
POST FROM THE PAST
by Shakti MB (Alumni: MFA D+T)
Physical + Digital 
About : Post from The Past is a trans-media narrative via mysterious subscriptions in which you receive packages from people in the past. Hear their voices & uncover their stories through an immersive physical and digital journey. Open the package and explore carefully curated artifacts from another time and place that tell the stories of spies, vikings, pirates and other historical humans – everyone from great leaders to everyday people from a different time.
MY BEAUTIFUL HOME
by Romain Vakilitabar (Friends of AMT)
Virtual Reality 
About : Lucy Ochieng is 29 and lives in Africa's biggest slum. It's a place where most live under a dollar / day. But despite how it's seen in the world, Kibera, Kenya is Lucy's "beautiful" home. This 6 minute VR experience aims to change the way in which we perceive poverty… by stepping into the shoes of someone who calls it her reality.
SEE THE UNSEEN FACES OF THE MET
by Ying He (ITP of Tisch)
Virtual Reality 
About : Have you ever imagine there are more than 6,000 interesting faces are hidden in the Met Museum? I am curious about why we barely talk about them in our daily live? SUFM(See the Unseen Faces of the Met) is a VR project bring you back to the ancient "emoji" world!
LEGENDARY CYPHERS: A 360 DEGREE DOCUMENTARY
by Alex Gerald (Journalism + Design)
Virtual Reality 
About : Legendary Cyphers is a group that facilitates weekly public hip-hop cyphers (rap battles) in Union Square. Our documentary captures the energy, flow and ferocity of the cyphers, which happen every Friday night from 9pm to midnight, May to November. We put viewers right in the middle of the circle as both rookies and old school MCs rap with, over and about each other for hours on end (but don't worry: the doc is only 10 minutes!). We also follow some of the main organizers to their favorite 1am pizza spot and to the Huffington Post to see them showcase their work for a popular web series.
CROSS DONUTS
by Xiaoyin Sun (MFA D+T)
Virtual Reality 
About : Cross Donuts is a first-person shooting virtual reality game. It was developed using Unity 3D and Leap Motion. Players shoot donuts to cops in order to escape from the prison.
Players' left hand would shoot chocolate donuts, right hand would shoot strawberry donuts. There are certain amount and types of donuts that cops need showing above their head. In order to "kill" the cops, players need to shoot the correct number and type of donuts.
AFTERWORLD LAYIA
by Dmitry Bosikov (Visitor)
Virtual Reality 
About : Afterworld layia would be a multiplayer RPG game. Currently we have created client side functionality and wrap it up in a demo. While continue working on server side and improve client.
Players would play a role of minions that protect necromancer that summoned them. Through summoner's adventures.
SOMETHINGS NEVER WASH OUT
by Remina Greenfield, Yining Fei (Creative Director/TD), Chuck Kuan,
Mina Rafiee, and Lee Bancou (MFA D+T)
Virtual Reality 
About : Some things never wash out. is the story of a lonesome young man who unexpectedly discovers portals to his dreams and memories within the unremarkable, context of his building's laundry room. Leafing idly through a book and waiting for his clothes to dry, the man is suddenly transported to a magical version of his childhood hometown, where rainstorms erupt indoors, golden fireflies dance in the streetlights, and once-treasured objects shimmer and beckon in the distance. In this beautiful and dusky dreamscape, our hero is confronted by memories of his estranged sister, whose insistent voice leads him through his grandfather's old laundromat, along a melancholy ice-encrusted road, and into a mysterious abandoned movie theatre where her glowing outline awaits.
The story uses a combination of 360 video and virtual reality to create a surreal immersive experience, a meditation on how we occasionally slip into imaginative worlds while going about the ordinary tasks of our day. Our body may be sitting in a laundry room patiently waiting for our clothes to finish, but our minds take advantage of the pause to wander through our childhood memories, fanciful dreams, and adult regrets. These images leave their indelible marks on our subconscious and, though we may lose them due to neglect or attempt to hide them in the shadows, it is in our idle and unguarded moments that they will inevitably float back up to the surface. They may change colors, they may fade and begin to dissolve, but they are part of us and they will never fully wash out.
PLAY DOH PERFORMER
by Alexis Caudle (MFA D+T)
Youth Workshop 
About : The prototype I'll be presenting at Play Tech is a small part of a physical computing workshop. The "performers" will be given Play Doh, a pre-programmed and pre-configured microcontroller. They will be tasked with creating shapes out of the Play Doh and connecting each shape to the microcontroller (via alligator clips), which will produce sounds when the shapes are touched. They can then perform spontaneous scores.
ANDI
by Chao Hui Tu (MFA D+T)
Interative Narrative 
About : An interactive narrative app where the user develops a relationship with the fictional character- Andi, a companion bot. It is a multiple day solo experience but I would like to share a short version in the show. The goal is to create as much enjoyable interactions and attachment to Andi as possible to promote the questions what companion really is and if that could only be provided by humans.
VIRTUAL PHYSICAL INTIMACY
by Lu Zhou (MFA D+T)
Immersive Theatre 
About : An immersive theatrical installation that explores the boundaries between virtual and physical intimacy. An empty gallery space is transformed into a living space where a two people inhabit. The living space is made of both physical and virtual elements with a 'wall' separating the audience from the actors. The wall has openings that allow you to view these actors lives, and you may walk behind it to inhabit their space, too. The actors quietly and continuously go about their lives and only communicate with each other virtually. While you may interact with their space, they are unaware of your physical presence.
VIRTUAL REALITY DATA VISUAL
by Debra Anderson (AMT Adjunct Faculty Digital Dev: WebVR and Co-founder Datavized)
Virtual Reality 
About : A selection virtual reality data visualization prototypes by Datavized Technologies demonstrating immersive education, medical, corporate, and sports applications enabling users to move 'inside' their data. Datavized Technologies, Inc. is a New York City-based startup focused on data-driven publishing for the 3D Web. Leaders in WebVR, the company is building a platform to enable users to easily create and share immersive narratives.  Designed primarily for Virtual and Augmented Reality (VR/AR), Datavized's software runs on any connected device, in 2D and 3D platform environments, for the widest audience reach. 
CIRCUIT HUNT
by Jed Segovia (MFA D+T)
Narrative Game 
About : The Southeast Asian nation of the Philippines is the world's largest exporter of monolithic integrated circuits. It comprises 40% of the country's exports, more than agricultural products like bananas and coconuts. The country contributes to 19% of global circuit distribution, even above China, which contributes 18% global distribution. 
In June 2016, Philippine president President Rodrigo Duterte took office and initiated a national war on drugs. President Duterte has encouraged police and citizens to kill drug addicts and drug dealers even outside judicial means. The war on drugs has drawn local and international condemnation for alleged human rights abuses. Regardless, 76% of Filipino survey respondents graded President Duterte "very good" for his first 100 days. 
"Circuit Hunt" is a game designed for young children, aimed at educating them in the value of integrated circuits, while devaluing drug dealers and drug addicts, a segment of society deemed disposable.
HALCYON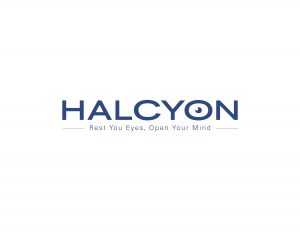 by Chiehping Chen, Kuo-Jui Hung (MFA D+T), Angelica Dios Jaramilo (BFA SDM), Hannah Xinhuan Chen (MFA ID)
Virtual Reality 
About : HALCYON combines vibrations, lighting and temperature manipulation with the immersive visual nature of VR to provide a unique sensorial experience. It reframes the purpose of VR, from an entertainment tool to a form of therapy and self care to treat general anxiety.
SHAN SHUI IN THE WORLD
by Weili Shi (MFA D+T)
Generative Art/ Data Visualisation 
About : Shan Shui in the World presents shanshui (山水, landscape) paintings of selected places in the world generated by a computational process based on geography-related information.
This project revisits the ideas implicit in Chinese literati paintings of shan shui: the relationship between urban life and people's yearning for the nature, and between social responsibility and spiritual purity. For an audience living in an urban area, a traditional shanshui painting provides them with spiritual support through the depiction of the natural scene of elsewhere. With generative technology, however, Shan Shui in the World has the ability to represent any place in the world—including the city where the audience is—in the form of a shanshui painting based on geography-related information of the place.
The notion that shan shui can exist right here (though in a generative parallel world) not only underscores the contrast between the artificial world and nature, but also reminds the audience of an alternative approach to spiritual strength: instead of resorting to the shan shui of elsewhere, we may be able to obtain inner peace from the "shan shui" of our present location by looking inward.
In this first production of Shan Shui in the World, the shan shui of Manhattan, New York is generated based on its building information. The generative engine was written in C++ with use of creative coding toolkit openFrameworks. The code that renders the shanshui painting was written in OpenGL Shading Language as fragment shaders.
The generative shanshui paintings were printed and framed into traditional Chinese scroll paintings, and inscribed and sealed by hand.