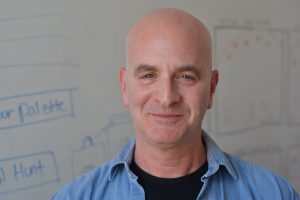 Ethan Silverman
Art, Media & Technology at Parsons School of Design
Panel:
12:30 am to 1:30 am
Exploration Narrative: Agency and VR experience
VR/AR/MR effects on experience in theater, advertising and games

About:
Currently Ethan Silverman is working with Bill Curbishley and Trinifold UK, producing and developing a game app with Judas Priest for Sony Music Entertainment. They are also producing an album of T Rex songs with Hal Willner with an accompanying documentary for BMG Music.  He has written the non- fiction theatre piece, "Jack From Above" which has been performed at The Kennedy Center in Washington, D.C. He has collaborated with such artists as musician Pete Townshend and director Barry Levinson. As a theatre director, he has worked at many theaters directing new plays, revivals, and performance pieces. As a filmmaker, his short films and documentaries have premiered at The Sundance Film Festival and on PBS. His writing has appeared in Bomb, Interview, Paper, and The Evening Standard in London as well as the photography book, "Backstage: Broadway behind the Curtain"(Abrams). He originated the narrative curriculum for Journeys in Film, a middle school syllabus that teaches cross-cultural understanding through foreign film. At Parsons The New School For Design, he teaches Thesis Writing & Research at MFADT and created The Tech & Performance COLLAB, the first Design & Technology collaboration with The New School For Drama. Ethan attended Oberlin College and The Drama Studio, London. Yaddo Residencies: 2008, 2010.
Reflective Essay: 
If my goal is to tell a story and have impact, what is the most effective way to do that? As a writer, director, producer and teacher this is a key question that I ask myself.
As a writer, who better to look at than Charles Dickens? Did he sit down with the intent to write massive tomes of industrial era Great Britain that illuminated the discrepancies of the class system with fully realized relatable characters? Possibly, but I think he wanted to tell compelling, relatable, character-driven narratives that would speak to his audience in the most effective manner. He was a storyteller who worked in a serialized system of writing that was published sequentially creating a world that his audience obsessively followed and waited with bated breath for the next installment. Much like today's television audience whom through technology and a new delivery system went from week to week consumption to the Netflix model of binge watching.
What could be more immersive than losing oneself in hours of Dickensian detailed plot over a rainy weekend curled up with "Great Expectations" or watching an entire season of "House of Cards"?
When immersion is abetted by Augmented Reality and Virtual Reality, one can go back as far as the Ancient Greeks when people traveled with great difficulty over rugged terrain to attend a theatre festival in an amphitheatre. The stories themselves might not have been new to them but the experience of sitting surrounded by large numbers of people having the same stories told in new ways with music, dance and masks in bigger and better spectacles each year took the crowds to new levels of a cathartic experience. How different is that from Coachella, an EDM festival at Randall's Island or a warehouse party in Bushwick?
The question I find myself asking at this moment is how can a storytelling experience be most effective whether it is alone with a device or headset or in a communal setting? How can we as creators of these experiences advance the emotional pull without losing the heart and soul of a satisfying experience? Is the "wow" factor enough? Probably not. Mr. Dickens knew just as the Ancient Greeks did that character is everything. Who we are and what we do are inextricably linked to the way we experience who others are and what they do. The way we deliver those stories does not change the fundamental truth and reality of the human condition. And let us not forget that immersion is narcotizing. People often feel dizzy and disoriented during and after a VR experience. The same can easily happen after a weekend of long reading or binge watching. One can even have a heady experience at a rock show or EDM event without drugs or alcohol.
In the past month, I've had three immersive experiences that confirm my feelings about the past, present and future iterations of my own work. James Joyce changed the way we experience literature and storytelling a hundred years ago in Dublin, Ireland. We look at narrative flow and the use of language in a very different way greatly due to his contributions. The Irish Repertory Company here in New York presented a new version of his story The Dead adapted by noted Irish poet Paul Muldoon. The production took place in The Irish Historical Society's turn of the century mansion on Fifth Avenue across from The Metropolitan Museum of Art.
The audience followed the actors and drank, ate and danced with them as they celebrated a Christmas Party. The joys and sorrows of Irish life greatly affected by the potato famine became a visceral reality for all of us, not just a poetic theatricalization of a moment in time. For me, it was not only fun but also revelatory and very present.
Pippiloti Rist had a beautifully realized retrospective at The New Museum which showcased her personal and generous video installations that, for me, played with time and experience, which forced me on a rushed and brisk day to slow down and find a new rhythm.
Most dramatically, and partly due to the immenseness and grandness of the venue, "Manifesto" by Julian Rosefelt and Cate Blanchett at The Park Avenue Armory defied my expectations of what installation, cinema and theatre are. A brilliant actress playing a multitude of roles filmed exquisitely while reciting various artistic manifestos of the last 100 years in a timed site specific surrounding that is experienced in physical time, space and audience movement.
In the work that I've shown in my reel, I attempt to use and am ready for immersion- AR and VR. The collaborative workshop with students from The New School for Drama and Parsons Design & Technology utilizes in very quick charette-like fashion the elements of theatre with explorations of new technology that the students pull together as a team.
In the game with Judas Priest, we also shot the narration with an Intel 360 camera so we have the option with animators of going to VR and other forms if the app is successful in after its initial run.
With the T Rex documentary about the songs being re-imagined, we are discussing the possibility of a VR experience as well for one of the songs. Even for a bare bones documentary, the pull for taking the audience on a more intense musical journey is there. We want the songs to come alive in a new way, so an experiment with one of the songs might be fun and helpful to the overall project.
I want the best experience for each project. As a teacher, I get to experiment and the students often lead the way, I help guide with the best advice I can give. As a creator, I have to follow my instincts and judge the marketplace to find the best fit for each experience.
Most importantly, the mood and demands of time will lead us there. But as an artist, I have to keep in mind that the message must lead the medium. The tools are enhancement not the end result. These are interesting times and as dazzled as we are, I feel it is our role to be clear about the communication. I aim to be influenced by the past, learn from the present and create for the uncertain future.