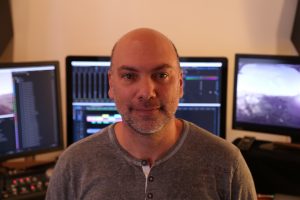 Livio Sanchez
Editor / Producer
Founder, Cause & Affect Media 
Panel:
9:30 am to 10:30 am
Subjective/Objective: Versions of Reality
360 surround cinema and news, entertainment and advertising
About:
Lead Editor for 2016 Cannes Grand Prix winning New York Times Magazine Virtual Reality film, The Displaced, Livio is at the forefront in cutting edge technology and progressive approaches to storytelling. Whether tackling large social issues through documentaries, crafting innovative music videos, interactive multi-media experiences, commercials that have become pop culture sensations, or leading the Virtual Reality field of storytelling, Livio has amassed an immensely diverse and distinguished body of work.
Reflective Essay:

Is VR (and other immersive technologies) something that will enable us to experience unknown realities deeper and foster our sense of empathy and understanding of others — or, push us to retreat further into subjective personal spaces (like with social media now) and detach even more from reality and real-life communities?
Technological advancements have provided useful tools that help us tell stories in creative new ways. They make it possible for audiences to experience content in theaters and homes, and on computers and phones. Throughout my career as an editor, I've consistently explored cutting edge techniques and progressive approaches to storytellingthrough documentaries, TV commercials, music videos, feature films, short films and multi-media experiences. However, no matter how big or small the screen, we've always been on the outside looking in.
In 2015, innovative director and artist Chris Milk founded the VR studio Within (formerly Vrse). I have edited the vast majority of his music videos, commercials and interactive projects. Most of Chris's stories attempt to take you inside the hero's journey by any means available. We created incredible stories, using groundbreaking technology, including Arcade Fire's: The Wilderness Downtown, which flew you over the neighborhood you grew up in and placed you outside your childhood home. The problem was we still couldn't fully immerse you in the experience.
On the first VR music video I edited with Chris, you are transported onto an arena stage in Toronto surrounded by all four members of the band U2. Bono, while staring right at you, begins to sing his heart out. After a few verses you hear a new voice in your right ear, only to look over and find yourself in a cabin in Montana with a Native American man singing the same song to you while playing his acoustic guitar. With one surprise after another, the 4-minute experience takes you inside the homes of U2 fans from the United States, France, India, Thailand, Canada, Israel and Spain as they perform Song For Someone for you.
Since that first video, I've had the opportunity to work with several other talented VR creators. The experiences have included Walking New York with renowned French artist JR, getting high with Elliot from Mr. Robot, witnessing a humanitarian food drop for The Displaced in Africa, making a pit stop with team Ford at Le Mans 2016, standing on the stage with Beck as he performs Sound and Vision, visiting the Ardbeg distillery in Scotland, dancing in Cuba with locals, bartending for Don Cheadle, and getting my heart broken by Natalie Portman. Through editing VR films, I have experienced many previously unknown realities on a deeper level. This has fostered my sense of empathy and understanding of others like no medium before. We're just beginning to scratch the surface of VR's capacity to explore immersive storytelling.
While it is possible that VR will push many to retreat further into subjective personal spaces (like social media) and detach even more from reality and real-life communities, my personal experience has been the opposite. I now take more time to be in the moment in real life. I often look all the way around me and take notice of the things I may have missed before my experience with VR. I find myself more open to meeting new people and listening to what they have to say about who they are and how they experience the world around them. I have also learned new things about myself, and the world I live in. Only time will tell if my experience with VR becomes the norm or the exception.